Have you been dreaming about creating a home theater but you don't know where to start? We've got you covered with how you can build an AMAZING movie theater in your home that everyone in the family will enjoy! Get ready for movie nights at home to be taken to the next level!
Read on for all of the steps to achieve the PERFECT home theater!
THE ROOM
The first step to creating your new home theater is to pick the space in your home. It may be your main living room, or maybe a bedroom or basement.
Here are some things to think about:
You'll want to choose a room with the fewest number of windows. Windows can distort audio and admit light, so it's best to find a place without windows.
For the walls, the darker the paint color, the better, because bright colors reflect light. As for the surface, regular drywall is perfect for a home theater, but you can go the extra distance by adding acoustic wall panels designed specifically for home theaters.
The best flooring for your home theater is wall to wall carpet, as it absorbs ambient sound! Consider adding a cushy pad underneath.
In your home heater, you should consider a system with 5.1 surround sound. This means the system contains five full-range speakers and one low-range specialist, the woofer. Three of those speakers and the woofer should be placed toward the front of the room. Your remaining speakers can be placed behind your viewing position.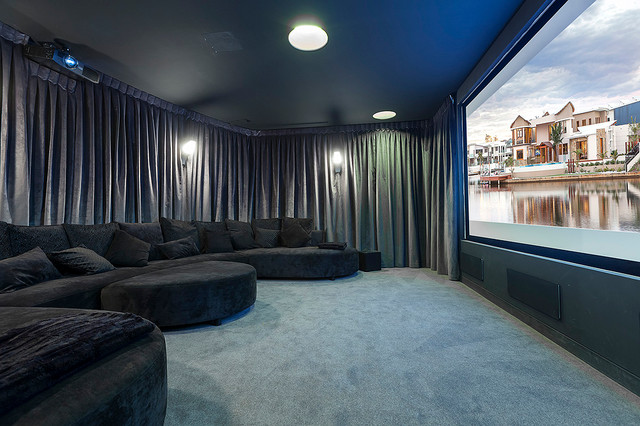 Every home theater set-up needs a high-definition display screen. You may think that bigger is better when it comes to screen size, but this isn't the case. You want to create an immersive viewing experience, but you have to be able to view the entire screen without moving your head from side to side to see what's happening. You also want your display size to complement your viewing angle.
Not into the idea of designing and building your own home theater? Another way to get your DREAM home movie theater is to purchase a home with one!
We've got the PERFECT listing for you with the home theater you've been dreaming about!
This amazing home in Ibis Golf & Country Club has a custom ''Petit Cinema'' - a jaw-dropping home theater, with eight leather recliners, a real ticket booth, concession area with beverage cooler, and Sony 4K Ultra HD projector with high definition capabilities that will show every single detail of the big game, the latest action flick, or your favorite TV show up close and personal on a custom, expansive 118" theatre-grade screen. Control the entertainment from the home's customized tablet and let yourself slip into complete surround sound from within the sound-insulated walls of your complete entertainment personal theatre suite.
For more information about this STUNNING listing with the PERFECT home theater, click here.