This is for all the moms out there sending your loved ones off to college! WE KNOW decorating and buying for a dorm room can be very costly and overwhelming, so we are here to help with tips and tricks for preparing to transition your baby into their new home!
The less you have, the better. Most adults think that a lot of college students spend a ton of time in their rooms, so they overload on supplies for their kids. Just get the basics; you don't need that fancy closet organizer. Chances are there will be enough space without it! So when you're shopping for dorm things, just get the necessities; and then if you get to your room and realize you need a few more items, further action can be taken. But, showing up with 100+ items and realizing your room is itty bitty small, can make you realize how much money you wasted on unnecessary items. Another mistake people make when buying dorm furniture, is that it probably won't be re-used. At most colleges, you only live in a dorm once, so again, spend as minimal as you can. The amount of mattress toppers and perfectly good storage units I see thrown away in the dumpster is unbelievable! Spend your money wisely and only buy what is necessary.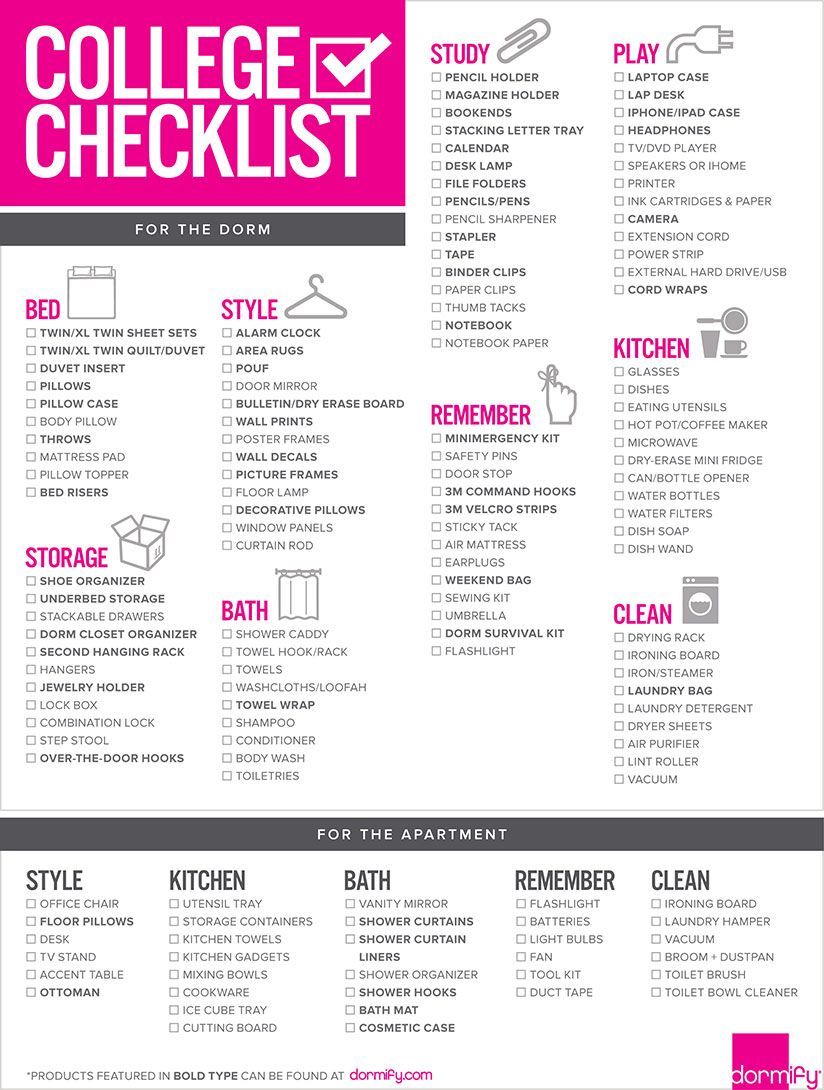 Don't Take Dorm Checklists TOO Seriously
This is NOT a school supply list! Take these lists into your own personal considerations while navigating around the internet for dorm checklists. Use them as an OUTLINE! if you end up buying every single thing on this list, chances are most items will be unused under the bed or thrown away at the end of the year! It is a waste of money to check everything off this list! Assess how you live now and what items are pertinent in your daily life; therefore, you can know what exactly you need to buy, before purchasing the entire store of Bed Bath & Beyond.
You Don't Need Every Item of Clothes in Your Closet
Clothes, clothes, clothes. We know you want to bring every single thing in your closet for those "just-in case" moments." We hate to break it to you, but those moments are RARE and there will be clothing stores in your college town. Only bring clothes that you will actually wear!! I personally thought I would at least get one wear out of every single item; however, I was, in fact, very wrong. I saw the same shirts collecting dust in the back of my drawers. Pack light, there are plenty of laundry rooms! This will save you space and time when moving out.
I think everyone forgets about this until you actually settle into your room. There needs to be space for luggage ( of course if you expect your kid to come home for thanksgiving). But, coming from a girl who flew home a lot, I can tell you that having luggage accessible was the greatest thing I ever did. Do not take home your kids luggage, they WILL need it; and make space so that they are able to store it as well. A large suitcase will not fit easily in a small space.
Some people may consider this "high maintenance", but I promise fans and air purifiers will become a necessity. Make sure to review your rooms amenities before you move, or you may be sleeping in a sweat puddle for the first few nights. If your dorm does not have A/C (which is unlikely), be sure to have a fan. But, even if A/C is included, fans are nice to keep the room cool. Another thing to consider is an air purifier. Make sure to know the year your dorm was built, because an air purifier may become a necessity. Old dorms = mold = sickness. I had a ton of friends living in a dorm that was just about to be knocked down because it was so old and many of them got sick ALL THE TIME. Make sure to keep your living areas as clean and sanitary as possible, even if that means purifying the air.