The Jupiter and South Florida lifestyle involves going to the beach as often as possible. Whether it's Sunday mornings at the Jupiter Dog Beach or early morning sunrises at the Juno Beach Pier, us Juplifers have access to some of the most beautiful beaches in all of South Florida! So, if we live and breathe the beach, why not bring the beach life into our home decor?

If you are looking to deck your home with a beautiful beach theme, read on! We are here to give you 5 of the best ways to bring the beach to your home so you can live in paradise all year long!

One of the easiest ways to beach up your home is to add seashells!
Pick up some vases or decorative bowls on amazon or at your local home decor store and then fill them with sand, shells, sea glass, or starfish to create some of the most beautiful beach decorations!
These vases and bowls are perfect for accent tables, coffee tables, shelving and bookcases.
Boats, boats, boats! Boat models are PERFECT for achieving that beach house decor that you've been dreaming of. Pretty soon you'll have that pinterest perfect coastal home that will impress everyone that walks in the door!
Try the look that's pictured by adding a large, eye-catching model boat in your living room to add that wow factor.
You can find decorative boats online on amazon or at one of our favorite home decor stores, HomeGoods! Pair a smaller boat model with a lighthouse decoration or beachy art piece!

3. Everything Blue and White
The blue and white color combo screams beach life! Keeping your decor light, bright and white, with blue accents will exude that nautical atmosphere you've been searching for!
Make it a theme and coming home to your house will feel like an extension of a relaxing day at the beach!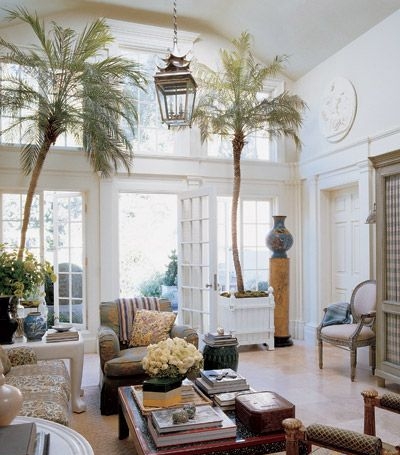 There's no better way to live in paradise than having palm trees in your house! Us South Floridians love seeing palm trees everywhere we go, so bringing them into our home is nothing out of the ordinary!
If you have the space, opt for tall palm trees like the gorgeous ones pictured. But if you don't have space for 12 foot tall indoor palm trees (like most of us), go for smaller palms to decorate accent tables, bookcases or shelving.
Not only are palm trees great for creating your perfect beach decor, they also help to create a more relaxing atmosphere in your home!